FULLTIDE ENTERPRISE passed the GRS certification, to green and environmental protection has taken another step forward.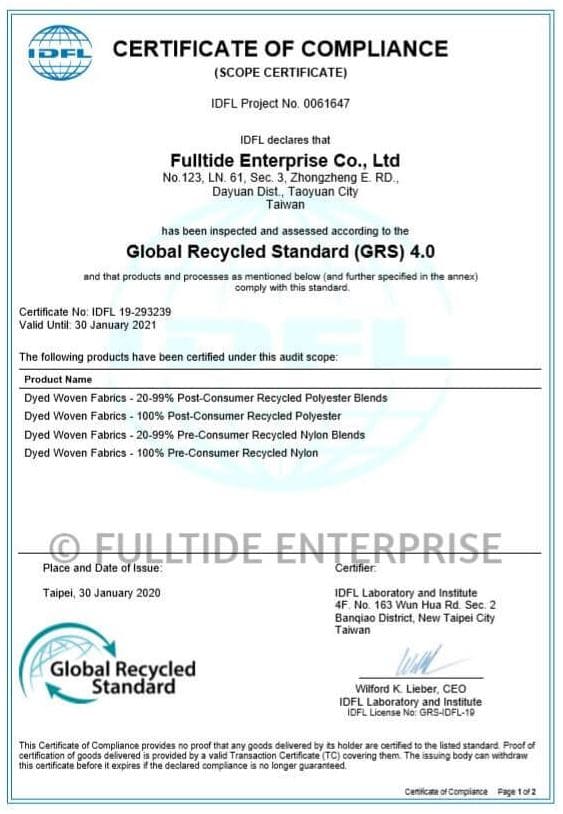 What is Global Recycled Standard (GRS)?
Global Recycling Standards Certification (GRS/RCS) is the Global Recycle Standard certification.
The Global Recycling Standard (GRS) is an international, voluntary, and comprehensive product standard that sets out third-party certification requirements for recycled content, a chain of custody of production and marketing, social and environmental practices, and chemical restrictions. GRS's goal is to increase the use of recycled materials in products and reduce the main use of the final products containing recycled ingredients or semi-finished products, the current certification is mainly concentrated in textile and clothing enterprises, such as recycled bottles, recycled polyester filament, recycled polyester short-term, recycled fabrics, recycled garments and so on.
What are the aspects of GRS/RCS certification?
GRS certifies the following 4 modules:
Recycled ingredients: Product recycled ingredients greater than 20% are certified entry conditions.
Social responsibility: If the enterprise has successfully passed bSCI, SA8000, GSCP, and another social responsibility audit, then through the certification body assessment, can be exempted from the assessment.
Chemical management: The chemical management policy used in the production of GRS products.
Environmental management: whether the company has an environmental management system, energy use, water, wastewater, waste gas, etc. whether there is control.
RCS certification is only certified: the recycled ingredient snook. Product recycled ingredients greater than 5% are certified entry conditions.
What does GRS certification bring?
Reuse of materials helps reduce dependence on non-renewable resources, reduces waste emissions, and disposes of an environmental load of waste, contributing to the sustainable development of society.
The rational use of renewable resources has been more and more brand buyers and consumers concerned, at present, many European and American brands require domestic suppliers must get GRS certificate, if there is no GRS certificate on the opportunity for cooperation, not to mention international buyers and the world's famous enterprises procurement list.
Products to get GRS certification, according to the relevant provisions of GRS can hang the GRS logo, according to the relevant regulations of brands can hang brand logo, whether at the product level or company level is easier to enter the international stage.
MORE INFO
Instagram
https://www.instagram.com/fulltide_en
LinkedIn
https://www.linkedin.com/company/6795942
Twitter
https://twitter.com/FulltideL
Contact Us
Email:ft@fulltide.com.tw